July 24 - August 7 - 2007
www.djanbaziandance.com - Programma Estiva In Armenia
Djanbazian "Armenia Summer 2007" Tour Announcement
If the first Tour of Djanbazian Dance Company to Armenia was called "Return to Cultural Roots", what should we call the second journey? Reunification with unforgettable memories?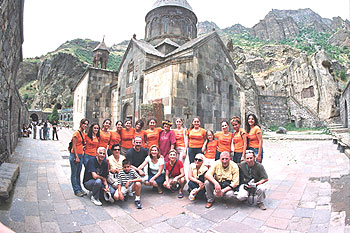 Djanbazian dance Company, with an invitation from state of Armenia and following its objective of preserving the Armenian dance and culture in Diaspora is announcing the exciting news of their second tour to historical Armenia for two performances.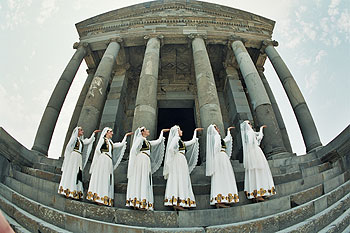 18 dancers of the company under direction of multiple award winner choreographer, Ms Anna Djanbazian, accompanied by their family and friends will be on the road from Tuesday July 24th through Tuesday August 7th 2007. Although 14 days will not be enough; but in - between rehearsals and the performances the dancers and their family members will be exploring the beauty of Yerevan by visiting its historical monuments, museums in addition to meeting with local Artists for cultural exchanges between Armenia & Diaspora and to continue on their mission of building bridges between both countries.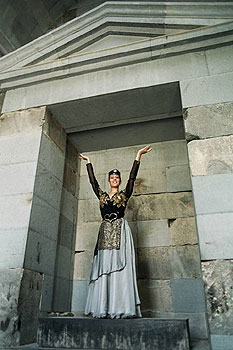 The Djanbazian Dance Company will present two full evening length dance performances, the first performance will be held on Sunday July 29, 2007 in Vanadzor at 5pm and the next one on Friday August, 3, 2007 at 7pm at Yerevan Legendary National Opera House, which underwent a complete refurbishing in past years, providing outstanding state-of-the-art venue. The premiere dance pieces represent diverse genre of classical to traditional and contemporary choreographic works of the Djanbazian Dance Company.

If you are visiting Armenia during Tour dates do not miss these incredible admission free dance performances. You can also contact Djanbazian Dance Company for your complimentary tickets for both concerts in advance.

www.djanbaziandance.com


V.V